Dr. Praeger's Purely Sensible Foods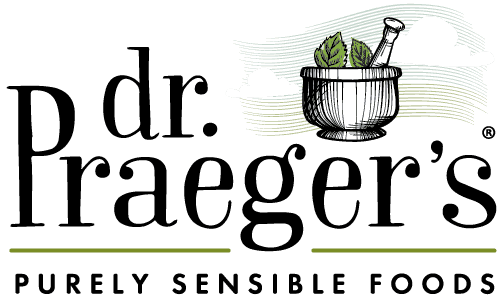 22 Years of Great Taste & Quality
Company Structure
Founded in 1994 by Dr. Peter Praeger and Dr. Eric Somberg -- two well known, highly regarded Cardiothoracic Surgeons based in the NY/NJ region. The company is still family owned.
At 22 Years young, company maintains strong DOUBLE DIGIT Growth: +30% in 2016.
Continued Capital Investment and Plant Upgrades, plus new Senior Management Leadership
Made with the highest quality, all natural, recognizable ingredients

25 Items recently certified by the Non GMO Project
All Gluten Free Items certified by GIG
Seafood certified by Marine Stewardship Council
No artificial flavors or colors, Low in saturated fat and cholesterol, Flash Frozen Vegetables
Offering a broad assortment of products that appeal to a range of lifestyles:
Vegetarian, Vegan, Gluten Free, Dairy Free, Kosher Food Service List
Self-manufacturer with a full line of veggie burgers, veggie pancakes, Kids veggie items, and breaded fish.

Extensive capabilities punching, breading, frying, freezing.
Robust branded, private label and food service business units.
Brand Philosophy
Dr. Praeger's pronounceable and recognizable ingredients, known value & healthy innovations are our core strengths and how we differentiate in the frozen aisle.
Delicious options are available for both adults & kids, as well as trending lifestyle needs; vegan, vegetarian, GF, Soy Free along with tasty MSC certified sustainable seafood items, all while being ahead of the curve in dedication towards NGMOP.
Research and Development: we pride ourselves on FAST turnaround! On-site test kitchen, product development and in-house food scientist.